"Sometimes we have to remind ourselves that thankfulness is indeed a virtue." – William Bennett
DAY 1: I'm thankful for what I have, because…
I'm thankful for what I have because it makes me human. Gratitude humbles us and grounds us in reality. I didn't want to turn this post into a soapbox, so following Jeff Goin's post, I wanted to make my own gratitude list.
Ten Things I'm Grateful For
10. My support system – My phamily and friends:

I've seen students in my district create their own families at school because they weren't raised with a support system. Families fight. Families grow distant, but I am 100% thankful my Phamily has become more than my safe space of unconditional love.
My friends are kick ass! They've fed me copious amounts of energy and support. They're not good people, they're great people. From dance to work to school, whatever the case maybe I'm so grateful for my extended family.
9. Music and DJ Phammers –
I've always been a music junkie. I've been known to make mix CDs for my friends. Whatever emotions I was going through, or songs connected to the memories I shared with my friend it was like the soundtrack of our lives.
Being a DJ and sharing my fervor for music has been a dream. One of my happiest moments was when I DJ'd for my friends in Houston, Texas. Seeing them fill the room up with love and dance was one of the coolest experiences.
8. This Blog – 
I've had this blog for nearly seven years, and some cherished moments have been archived. It never fails to surprise me when someone tells me they discovered my site. This space online for me was about connecting with friends and anyone who needed a place to turn to for a little positivity. If I inspired someone to share their story through a blog or touched them in any way, that's a major added blessing.
7. Late Night Talk Shows – 
I love the mission of late night television. They are a beacon of light at the end of the day. I've been a LONG time fan of Jimmy Fallon and James Corden. They uplift the world simply by making us laugh.
6. Food –
This doesn't really need any explanation, haha. I'm a foodie at heart, and for me food creates memories. A place of catharsis is in the kitchen when I cook. Sharing conversation and memories around the table are some of my favorite things.
5. Rejection –
If I didn't get turned down for a job or a romantic relationship, I wouldn't learn about my own identity. I wouldn't know what I want out of life.
4. Dreams –
There's a reason my tagline's – conversationalist. producer. dreamer. If I didn't have goals or dreams, I wouldn't have a life journey to go on. It's like that funny moment in "Friends" when Joey asks someone, "You don't have a TV? What does your furniture point towards?" If you don't have dreams what does your life point towards?
3. My Heritage –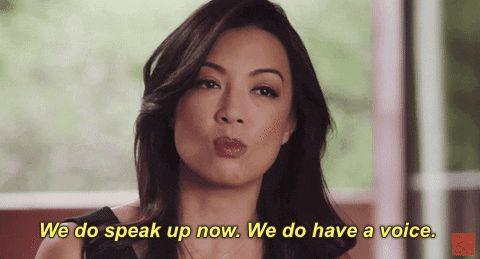 Now that Asian Pacific Heritage Month is coming to a close, I am so damn proud of my Asian heritage. There were obstacles growing up Vietnamese, but the culture, food, and history I get be a part of outweighs the adversity.
2. Zac Levi – I know this blog turned into the "I LOVE ZAC LEVI" show, but in the words of the millennials, #sorrynotsorry. I could write a book about how he's been a large spot of positivity for me, but most importantly he's become such a driving force of my purpose to spread kindness and to keep building new dreams.
(P.S. Listen to this UH-mazing podcast he did with Anna Faris! I love his line about how there shouldn't be just one day devoted to being thankful. We should be thankful every day.)
Life –
I am thankful to go to bed at night and wake up the following morning. I recently had a health scare within the family, and it solidified how much of a gift life is. If you're going through a troubling time, please know that you are NEVER alone. You are only on a stepping stone in your journey, and there are SO much more things for you to conquer fiercely!
Stay hungry, stay foolish, stay humble and stay grateful.